Music making, practicing and the brain
16 Aug t/m 19 Aug
17:30 — 16:00
Orvelterhof, Drenthe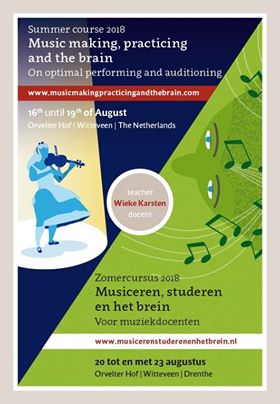 Engelstalige cursus door niemand minder dan onze vaste columniste, Wieke Karsten.
(Wieke verzorgt deze cursus ook in het Nederlands)
"Music making, practicing and the brain" offers musicians an unique and intensive three days course in which you will learn a method that will change both your practicing and performing. It will tell you all about training focus, how to prepare performing, how to stay physically and mentally calm and how to reach a high level of artistry and enjoyment on stage.
All participants will perform during the course, coached by Wieke Karsten. Theory and practice will go hand-in-hand! The course will be completed with a concert in the beautiful church of Zweeloo.
This inspiring event, including delicious meals, will take place at a beautiful old farm in the midst of nature in the North of Holland (Drenthe). There is no better way to start your next semester!
Meer informatie & aanmelden via de website van Wieke Karsten
Ga naar actuele berichten